Pre visit
Engage effortlessly
Attract guests, create anticipation, and drive conversions, again and again.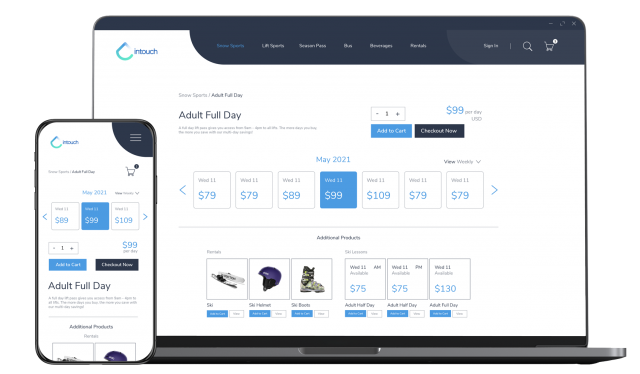 eCommerce platform.

Sell anytime, anywhere with Intouch Elevate's online reservation platform. Purposely built for mobile platforms, the Elevate solution comes standard with advanced capabilities which deliver results.
Optimized booking flow to secure conversions
Guest profile management for customer self-service
Access products, activities & event reservations
Dynamic pricing to drive higher yields
Cross sell & upsell functionality designed to increase cart value
Product reloading for contactless fulfillment
Electronic waivers offering liability protection
Group management which streamlines large bookings
Agent portal and third-party sales to extend distribution
Marketing analytics including abandon cart tracking
Dynamic pricing to maximize visitation and yield.
Intouch Elevate's dynamic pricing solution drives yield both online and in-resort. An intelligent rules-based engine powers the Elevate dynamic pricing platform to automatically help operators:
Increase visitation and revenue with advance purchase concepts
Smooth operational peaks and troughs by attracting more guests on off-peak days
Drive loyalty by rewarding early bookers
Increase guest lifetime value through extended booking periods
Increase yield and smooth cashflow by selling more bundle or multi-day passes
Reservations & Call Center.
Intouch Elevate's reservations and call center capability combines intuitive UI with 360 CRM analytics making for a truly meaningful and guest-centric engagement.
Faster, smarter processes.
Trusted, efficient service.
Scheduled activities and reservation processing.
Call center operations & product fulfillment.
Full CRM integration and visibility for the ultimate tailored experience.
Intuitive graphical interface for time and inventory based product sales.
"Intouch Elevate has been instrumental in accelerating our digital transformation. We've driven higher conversions, greater yield and consistent year-over-year revenue growth."
— Barb Green, CEO / Owner, Blue Mountain Resort.
Intelligent Marketing
With an intuitive UI and all the tools you need, Intouch Elevate gives you the freedom to intelligently find, connect, engage and nurture guests leaving time to focus on key messages and strategic campaigns. You can also:
Personalise with intent through data-driven insights.

Intelligently segment
Know the customer with full 360 CRM insights
Seamlessly connect throughout the journey and across the lifecycle
Analyse your impact.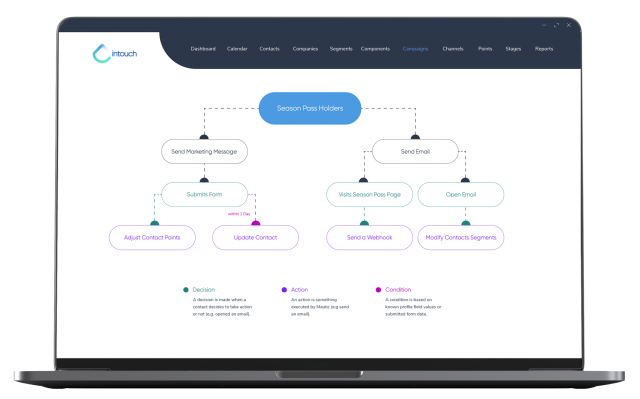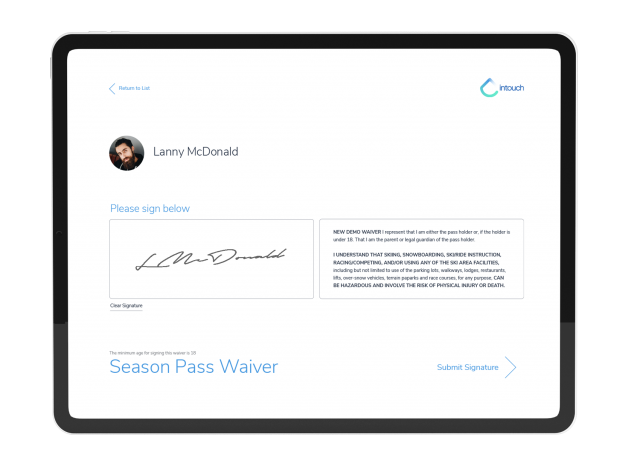 Electronic waivers
From pre-arrival to on-site, Intouch Elevate's electronic waivers ensure compliance and an exceptional guest experience from the outset. Intouch electronic waivers are:
Quick and easy.
Customizable for your requirements and to reflect your brand.
Easily integrated to all purchases environments including online and at the ticket office.
Available for use on computer, tablet or mobile device.
Accurate, secure and easily searchable.
Don't take our word for it
Clients love Intouch
There's so much more for your attraction.
Let's make the entire process seamless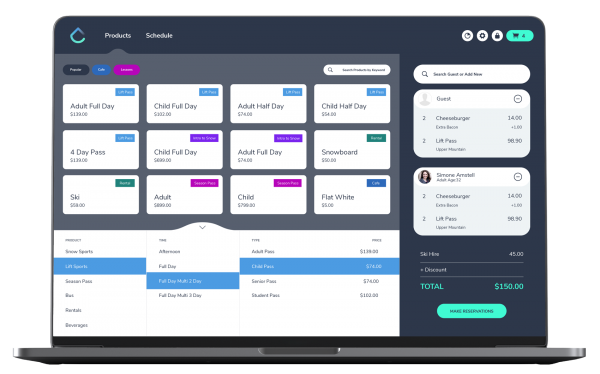 On site
Maximize spend
Frictionless guest experiences, maximize spend and enhance operations.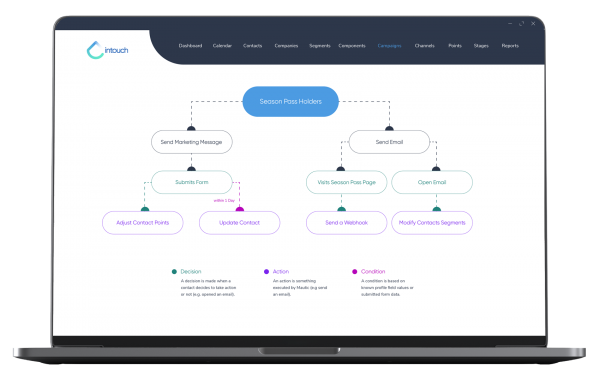 Post visit
Exceptional Loyalty
Drive loyalty and keep them coming back for more. Maximize share of wallet, optimize each season.