Be the best
Business without limits
Make your best decisions
Operational optimization.
See real-time operational trends and act instantly. You'll optimize operations to be as efficient as possible.
Your guests will enjoy their experience to the fullest and your staff will achieve at maximum effectiveness.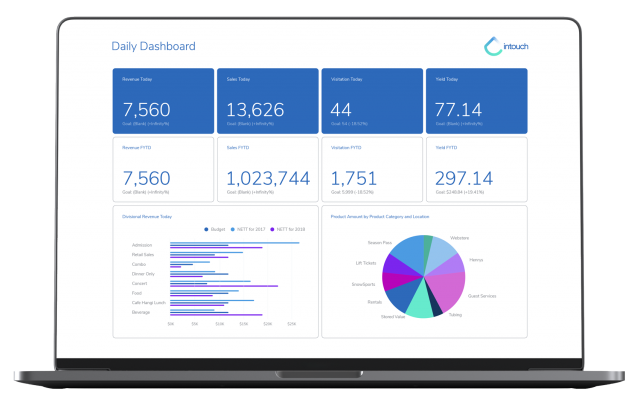 Without limits
Yield maximization.
When used to its full capacity, Elevate enables yield maximization through smart profit optimization and operational excellence.
Connect and visualize data from across your business helping make better-informed decisions. Gain deep behavioral insights, single out those most likely to buy, optimize inventory rotations and support your staff to improve guest experiences while driving yield.
See the future
Predictive analytics.
Use the power of machine learning to combine live data from across your business and third party sources, such as weather forecasts and holidays, to predict and recommend operational improvements.
From dynamic pricing, to just-in-time inventory ordering, from sales forecasting to rostering recommendations. Elevate gives you the edge you need to succeed.
"Intouch Elevate has been instrumental in accelerating our digital transformation. We've driven higher conversions, greater yield and consistent year-over-year revenue growth."
— Barb Green, CEO / Owner, Blue Mountain Resort.
Something for everyone.
For seamless guest experiences.