Intouch

Lessons from...
A deep dive into big tourism's
strategies and how to apply them to ski.
What does Disney, Marriott Hotels, Sundance Resort and The Met do that makes them so successful?
It's no secret that Disney, Marriott Hotels, Sundance Resort, The Met and every other brand name attraction or experience use their good names to attract visitors. But how do they do it? How do they get good names in the first place that not only attracts guests, but keeps them coming back.
In this season's deep dive we look at four of the best. We compare them to industry trends, changing consumer expectations and global movements to understand why they're some of the best and more importantly, what other ski resorts can easily do to emulate their success.
Experience ≠ Expectations
Marble Arch Mound: Much-mocked tourist attraction to close
Vail responds to local criticism after a rough start to the season
Legoland should be renamed 'Deep Fried Crap Land'

'Mocked' 'Criticism' 'Crap' These are words no resort or attraction wants to hear associated with their brand. But what caused the harsh criticism? When you dig into the media headlines and guest review sites, there's a common theme: experience. Specifically, expectations of the experience did not meet reality. And this is the underlying theme that differentiates the good from the bad.
So how do the best provide continually good experiences, ensuring guests get the experience they expect. There are three key areas: marketing, product / service offering and technology.
It starts with marketing
Get personal
Thanks to the likes of Amazon, Google and Facebook guests now expect only the most relevant information to be shown to them. Anything else is, at best, ignored and at worst creates a negative brand experience.
The result of this external influence is that the most successful resorts and experiences intimately understand their guests and their motivations in order to be completely relevant. At a minimum, per target guest segment, the most successful brands understand:
Visitation patterns
Guest spend
Geographic location
Previous experiences & purchase history
Parallel interests
Preconceptions
Concerns and hopes
Lifetime value
Constraints and considerations
Visiting motivations (trip of a lifetime, or just for an Insta shot)
Trusted media and influential friends
This deep segment understanding allows the tailoring of product and service offerings to be highly attractive to the most valuable guests and ensures expectations are met from the outset. The Met's tiered membership offering perfectly illustrates this. From their lowest level 'Member with Early Views' at $110 per year (low cost / high volume) to their highest 'President's Club' offering at $25,000 per year (high cost / low volume) there's a price point and associated experience to satisfy all of their most valuable target groups.
This understanding results in not just repeat visitations but also cold, hard cash. In their 2020 annual report they noted, 'The Met's loyal Members are an invaluable source of support. This fiscal year, combined income from 106,208 households totalled $22.9 million. This includes revenue from Member dues and donations to annual appeals as well as ticket sales for Member events and programs.'
Disney does something similar but splits their target segments by motivations. Its overall high cost is no barrier to fanatical guests who will pay anything to experience the brand. While middle-upper socioeconomic families often view a trip to DisneyLand as a 'once in a lifetime' trip. Thereby giving Disney maximum yield from different guest segments who are equally happy to pay for the experience.
While in 2020 Marriott Hotels homed in on their guest segments' concerns, constraints, considerations and motivations noting, "​​At the start of [COVID-19], it was clear that cleanliness and safety would be paramount to our guests and associates. We introduced new standards and enhanced cleaning technologies, including electrostatic sprayers with hospital grade disinfectant to sanitize public spaces throughout our hotels. We implemented new, more flexible cancellation policies. We also leveraged our mobile technology, reducing contact during the stay, to better meet the needs of our guests while amplifying operational efficiencies."
Right time, right place
Understanding the guest intimately also makes it easy to reach them with the right message at the right time and setting the right expectation from the start. It's no use advertising to thrill-seeking, 23 year old guys on a mom website. Same with timing. No one's thinking about skiing when it's 90º out.
Instead, advertise to guests at the right time (e.g. when planning school holiday activities) and in the right place (e.g. Love, Taza blog for families, the Financial Times for The Met, MiceChat for Disney etc.)
Take a look at Sundance.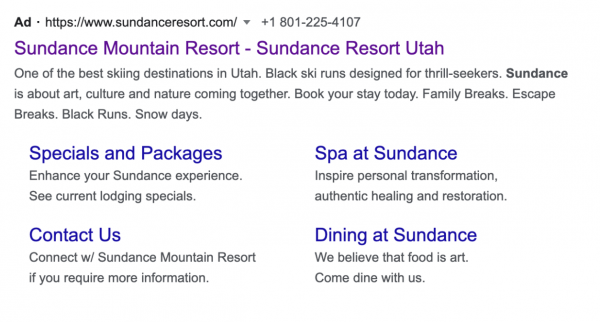 They're advertising on Google so when someone is actively searching the phrase 'Sundance Resort' they are immediately found via an ad. The target segments and their expectations are set from the beginning. "Black ski runs designed for thrill-seekers" is never going to work if it's shown on the mom blog, Love, Taza.
Disney also epitomizes this insight in their 2020 annual report, 'Peak attendance and resort occupancy generally occur during the summer months when school vacations occur and during early winter and spring holiday periods. The licensing, retail and wholesale businesses are influenced by seasonal consumer purchasing behavior, which generally results in higher revenues during the Company's first and fourth fiscal quarter.'
Competition, it's not just other resorts
Finally, the most successful resorts and experiences consider all the other options guests have, including the option to 'do nothing / not visit.' Disney specifically calls this out in their annual report as a significant business risk, "Our theme parks and resorts compete for guests with all other forms of entertainment, lodging, tourism and recreation activities."
To address this, the leading resorts and experiences clearly define their value proposition and how to outcompete the alternatives. The COVID-19 pandemic has hastened the need for resorts and experiences to truly dig deep and understand their guests' options, needs and considerations to do this.
Marriott Hotels noted in their 2020 annual report, "For our more than 147 million Marriott Bonvoy members, we have focused on staying flexible and relevant, whether they are ready to travel to a hotel or not. We extended elite status and launched accelerator programs for our co-branded credit card holders to earn up to 10x points on groceries and dining. We also offered alternative experiences such as Eat Around Town, a program that allows Marriott Bonvoy members to earn points at local restaurants. Our whole home rental platform Homes & Villas by Marriott International saw a significant increase in interest as many travelers sought drive-to destinations, longer duration stays and large spaces to allow for work, school and fun."
Know your guest, define your experience
Life is busy. Consumers expect organizations, resorts and experiences included, to make their experience decisions easy.
That's really difficult if you don't have deep guest insights, it's really easy if you do. By understanding your most valuable guest segments you can better design experiences around their expectations. In fact, the most successful resorts and experiences know their guests so well that they not only meet the needs of their guests but also surprise and delight them with experiences they never knew they wanted…until they have them.
It's not just packages and tiers
Pricing tiers and memberships are just the beginning. Add-ons, amenities and interest-adjacent activities all work to delight the guests and create unforgettable experiences that keep them coming back.
Mostly welcome locals? Great, offer products aimed at shorter visits but more of them e.g weekday season passes. Mostly welcome international guests? Cool, you should be offering multi day packages that include multi-day passes, rentals and lessons.
Here's how The Marriot does it "Our marketing teams have also been focused on generating demand, enticing guests with many creative offerings such as "staycation" packages and encouraging guests to take their remote work to our hotels using Day Pass, Stay Pass and Play Pass packages, which offer perks such as early check-in, late check-out, supervised children's activities and more."
More exposure = more fun
While Disney mentions, in their 2020 shareholder report, that 'add ons' and multi-product passes get the guest to pay more for a better experience and act as a gateway into spending more on services / products they wouldn't normally have. "The resort includes theme parks; hotels; vacation club properties; a retail, dining and entertainment complex; a sports complex; conference centers; campgrounds; golf courses; water parks; and other recreational facilities designed to attract visitors for an extended stay."
And once again Sundance excels by focusing on providing quality services at every point of the guest journey thereby providing a complete resort experience. In their own words, guests can "Enhance [their] Sundance experience with one of our curated packages to help [them] experience more of what Sundance has to offer."
While The Met increases exposure via tailored packages per guest segment. Resulting in better guest experiences, higher yield and smoother operations. For example:
The interest-adjacent 'Live Arts' invites both existing and new guests online and in person, essentially offering a 'try before you buy' experience for domestic and international guests. It also maximizes facility usage and is scheduled to fill 'down' times in visitations.
The #MetKids program for families gets whole families (rather than individuals) involved, educates and sets preferences from a young age and increases the chance of retail and food & beverage cross sells as well as smoothing visitations and resulting staffing rosters.
Finally, the 'Member Mornings' offer both exclusive access for higher value guests, maximizes program participation, all the while improving operations by smoothing visitations.
But beware. It is possible to have too much of a good thing. Vail's strategic decision to dramatically increase the volume of pre-purchase tickets and advance season passes has led to guest and staff backlash due to the perfect storm of hoards of guests but a lack of staff.
Hit them with the feels.
Every interaction causes feelings. From the first ad a guest sees, to the moment they step back home, every interaction creates a feeling and defines your product or service.
A single bad feeling (annoyance at a long line, uncertainty due to confusing signs, anger at difficult bindings) will ruin the entire experience and reflect badly on your resort. It will also reduce the chance of them spending more or even returning.
The good vibes need to be seamless. So by truly understanding your guests, you can optimize your resort and experiences to meet expectations, surprise and delight while avoiding bad feelings and maximizing good ones.
Technology
The final, and most ubiquitous tool used by leading resorts and experiences, is technology. For resorts and attractions, better, cheaper and more innovative technology is making operations highly efficient, offering greater value to the guest and improving their experience.
While on the guest side, cheap smartphones, continuous connection, online buying, real-time notifications and immersive realities and seamless transitions from online to real life are now the expected norm. Let's look at the implications.
Do what's expected
If a competitor makes it easier to buy or engage, guests will go there instead. The most successful resorts and experiences understand this at the most fundamental level.
Take a look at Marriott Hotel's risk assessment on technology, "A failure to keep pace with developments in technology could impair our operations or competitive position. The lodging industry continues to demand the use of sophisticated [internal] technology and systems…and technologies we make available to our guests and for our associates. These technologies and systems must be refined, updated, and/or replaced with more advanced systems on a regular basis, and our business could suffer if we cannot do that as quickly or effectively as our competitors or within budgeted costs and time frames."
While The Met have encoded it in their guiding principles, "[We will] use technology strategically to share scholarship and content, engage audiences, and achieve internal efficiency."
The leading resorts and attractions meet guest preferences through research, both their own and external. This means they know that since COVID-19 the trend towards planning and buying online but also retaining flexibility has accelerated. And the easiest way to do that is through modern, integrated technology.
Make it easy
One of the biggest benefits of technology, when done right, is how easily it can improve the guest experience.
Be smart
Finally, leading resorts and experiences use technology to optimize operational productivity, maximize guest yield and happiness, minimize overheads and bottlenecks. The key difference between the ok and amazing, is that the amazing, such as Marriott Hotel, take their lead from guests not shareholders.
When faced with COVID-19 The Met was smart, 'The Museum's home page pivoted from encouraging on-site visits to featuring Web-based highlights, including 360-degree views of iconic spaces, behind-the-scenes videos, and dynamic explorations of exhibitions.'
While smart resorts are using technology to smooth visitations, thereby avoiding a crush of people arriving over a short period of time. This minimizes the rippling impact on guest services, rentals, food and beverage and not to mention lifts.
They're using technology to optimize operational productivity through smart rostering, they're minimizing overheads through self-service improvements, deploying contactless technologies in new areas such as mobile F&B ordering, and utilizing data to make smarter business and operational decisions.
And they're maximizing guest yield and happiness by surprising and delighting them with relevant products and services, effortless engagements and AI driven personalization.
All of which improves the guest experience, strengthens the brand and enables marketing to start the positive process all over again.