Better business for tours and attractions.
Intouch Elevate has been developed for those in the travel and tourism industry wanting to use best practices to:
Increase profit margins
Improve business operations
Decrease time spent on back end office processes and general admin
Deliver exceptional experiences from the moment a guest hits your website
Business growth through attracting new guests and keeping old ones coming back.
Operators
Whether you're a global attraction or a small local operator here in the United States, Intouch Elevate has the software solution and support option to fit. We support:
Tour operators
Activity operators,
Small groups
Package tours
Day tours
Tour packages
Tourism boards
Virtual tours
Third parties
We also offer portal logins, channel management and APIs for:
Travel agents
Hotel concierges
Peripheral tour and travel business suppliers
Joint business initiatives such as sister companies
"Intouch have helped guide our superior guest experiences through technology. They've consistently provided us with innovative products, trusted guidance and superior service."
— Operations Manager, Snow Trails Resort.
It's good business
Overcome the daunting task of online bookings / reservations / sales, offline bookings, direct bookings. All while delivering consistently excellent customer service and product management, in real time. Intouch Elevate is the perfect solution to support your specific, operational needs, with the industry's most beautiful and intuitive interface.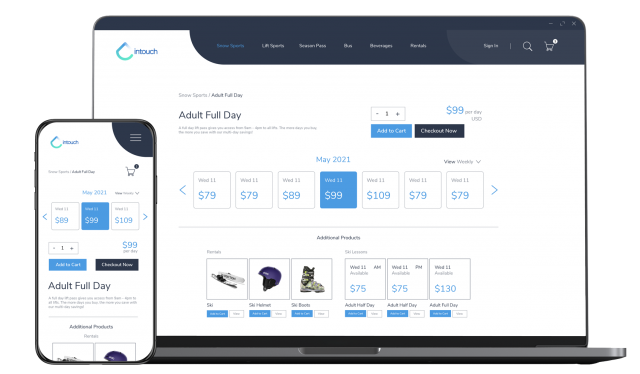 Online bookings - using your own website.
Intouch Elevate is the ultimate tour operator software for online booking. Using your existing website, not a whole new website, you can attract new customers, convert more sales and give users the ultimate experience on their mobile devices.
Built 'mobile first' Intouch Elevate provides a user-friendly online booking process that guides users on their purchasing journey while helping you up sell and cross sell for better profits.
Don't take our word for it
Clients love Intouch