Online booking system

Sell fast. Price dynamically.
Tickets, passes, activities and more.
Online Booking Software
Make it quick, make that money.
Maximize sales, optimize operations.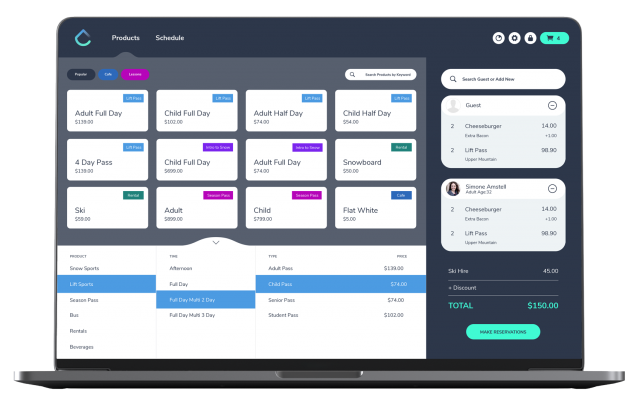 Easy bookings, easy sales.
Make it easy to attract web visitors and convert to bookings no matter where you or your customers are. Intouch Elevate's intuitive and fully integrated online booking and management system helps speed the booking process, sell more tickets and manage the day-to-day.
Intouch Elevate helps you sell onsite & online delivering greater insights and better business decisions.
Powerful features come standard helping tour and attraction operators to attract more customers, convert more sales and improve management processes.
Extraordinary everyday.
Intouch Elevate's beautiful interface helps make day-to-day management extremely easy no matter the experience level.
Simplified reservation processing for activity operators of all types of attractions. Full integration eliminates double entry, speeds operations and provides deep business insights not seen in other systems. With a simple swipe, tap or scroll operators can make fast, smooth transactions.
Intouch Elevate offers tour and attraction operators everything they need, and then some:
Make and manage bookings on the fly
Sell tickets online or onsite
Cross sell other products and services for greater yield
Easily manage electronic waivers and vaccine passports
Allocate and manage resources at the tap of a button
Accept payments of every type for quick processing
Manage sales and inventory in real-time
Implement dynamic pricing for maximum yield
Offer cashless payments to maximize yield
"Intouch have helped guide our superior guest experiences through technology. They've consistently provided us with innovative products, trusted guidance and superior service."
— Operations Manager, Snow Trails Resort.
Don't take our word for it
Clients love Intouch