NSAA + Intouch

Tech Procurement 101.
Where Snow Meets Silicon, Slow Down.

Technology, in all its forms, is making its way beyond chairlifts and snowcats. Here are the foundational concepts of which every ski area leader should have a solid grasp going into the procurement season.
By Casey Parliament, President/GM, Intouch Elevate
Most of us joined the snowsports industry because of a shared passion for the outdoors and its people. And for guests and ski area staff alike, that may involve a break from our everyday technologies so that we can stay present and connect with nature, friends and family in these beautiful environments. That doesn't mean, however, that tech wasn't involved in the journey that got us to the top of that mountain. In fact, technology, in all its forms, is making its way beyond chairlifts and snowcats into every nook and cranny of the industry.
Despite operating in one of the most challenging times in snowsport's history, ski resorts around the globe are optimistic because they're leaning on technology to help temper the uphill challenges of aging consumer demographics, the climate crisis, remnants of a global pandemic, industry consolidation, drastic labor and housing shortages, competition for discretionary spend from other industries, and a fundamental shift toward a total guest experience.
Vital as technology can be, it still requires thoughtful consideration and a strategic approach before incorporation. What follows are some foundational concepts of which every ski area leader should have a solid grasp going into the procurement season.
We're All on a Journey: The Tech Maturity Continuum

Although considered a truism, technology adoption doesn't always equate to a ski area's size. Instead, it aligns closer to a business' attitudinal approach and resulting technological maturity. In general, the ski industry as a whole sits in the middle of this tech adoption continuum. In contrast, Disney (an industry unto its own) sits at the far right representing extreme digitization and construction at the far left representing technological laggards.
To see where your resort sits, consider that in the early stages of the continuum, tech is seen as an expense to minimize, used to improve efficiency. At the later stages, resorts view technology as an asset to maximize, using it to develop a competitive edge with AI-style insights resulting in OMG experiences.
The Tech Maturity Continuum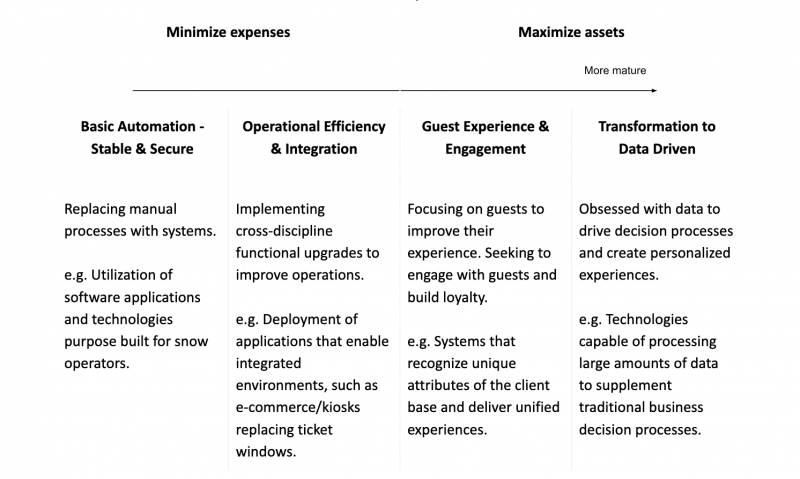 9 Easy (Yet Sometimes Fraught) Steps for Taking on Tech
Whatever your risk appetite, the time will eventually come to consider tech adoption to meet new or solve existing challenges more efficiently. Often, businesses at this point, daunted by the challenge of understanding and then finding the right technology, will skip several steps and seek out a vendor first. But relying on a vendor before establishing a foundational understanding of your own needs and parameters may lead to being oversold.
The tech procurement process is fraught with all kinds of potential pitfalls like that, including misunderstanding a solution's limitations, and internal misalignment on project objectives, expected timelines, quality or budget. Those operators that take a step back from the excitement and hype, and then proceed with the following strategic steps forward, may be able to better mitigate risk, and flow through an efficient and aligned procurement process that results in what's good for your resort, not what's good for a vendor's pocket.
Technology Hype Cycle: Weighing Urgency Against Necessity
Despite the simplistic representation, technology, like any other new business process, brings with it numerous challenges. So much so, that technology research company Gartner has developed a model, referred to as the Hype Cycle, which depicts the lifecycle of a new technology across five distinct phases:
Technology Trigger
A technology is first introduced.
Peak of Inflated Expectations
Maximum, and perhaps unrealistic, enthusiasm is shown for a given new technology.
Trough of Disillusionment
Limitations are recognized, and it becomes apparent that the enthusiasm was misplaced.
Slope of Enlightenment
Transition point at which initial issues are resolved and more realistic expectations emerge regarding technologies actual capabilities.
Plateau of Productivity
Technology reaches maturity and is embraced with proper understanding of limitations, capabilities and benefits. This is a good place to be but doesn't offer a lot of competitive advantage.
Source: Gartner Hype Cycle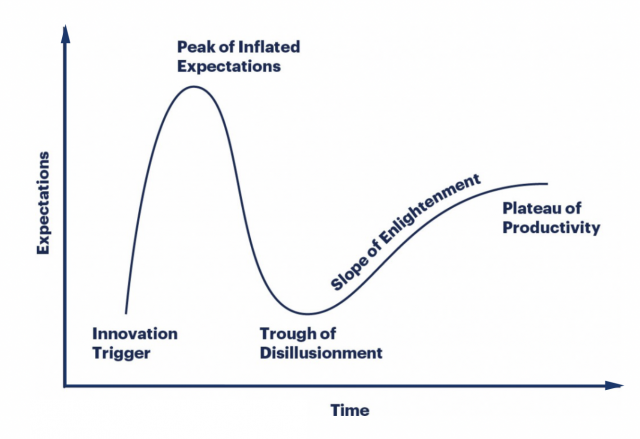 Hype Cycle for new environments
While the Hype Cycle is typically applied to new, emerging technologies, it can also be a useful model for those who are simply implementing technologies that are new to their environment.
It's important to understand and anticipate the distinct phases of the Hype Cycle to better prepare for the peaks and valleys while recognizing that a new solution will eventually stabilize at the Plateau of Productivity. Working through the procurement process with solid expectation management and good communication can also help flatten the steep drop-off and time spent dwelling in the Trough of Disillusionment.
Early vs. late adopters
Resorts should also consider the pros and cons of jumping onboard a new technology versus waiting. Jumping in early offers significant competitive advantage, but at the risk of more volatility. You'll be a trailblazer, but it will be a fast and furious ride. Those who wait until a technology has matured will be getting no more than table stakes tech, but also less Hype Cycle whiplash. There's no right or wrong answer; it's more about a business' comfort level with testing the waters or being a late adopter.
1. Innovation Trigger: Problem or Opportunity?
A problem or opportunity statement is a short, clear explanation of an issue or challenge that sums up what you want to change. It helps leadership, team members and other stakeholders focus on the problem, why it's important, and whom it impacts.
A simple format to follow is:

________ problem/opportunity has arisen. It's impacting _______ (this could be people, departments or business objectives). We need to address it by _______ (timeframe) so we can meet _________ (objectives). We'll know we've succeeded when _________ (ideal end state) occurs.
From a ski industry point of view, and depending on where you're at on the continuum, it could be a problem/opportunity like this:
We've just reviewed the latest Kottke Report and see that our ticket yield is lower than their average. This means we're likely missing out on additional revenue, forcing our teams to work harder to meet targets. We need to address it by fall 2024 so we can have the best chance possible to meet winter 2024 revenue targets. We'll know we've succeeded when our ticket yield is the same or better than the Kottke Report benchmarks.
2. Needs Assessment
Once the statement is established, it's time to go deeper. A needs assessment process is used to systematically review and document requirements for a given initiative. It should:
Differentiate between current versus desired state
Focus on business drivers, process requirements and/or expected outcomes
Identify must-have requirements that are non negotiable (e.g., mobile first, multi language)
Leverage best practices where practical
Using the ticket yield example, it could look something like:
Current ticket yield is 52%; the Kottke Report shows an average yield of 58%. So we need to increase our current yield by 6%.
To do this, we need to streamline the advance purchase process, making it easy to quickly communicate with guests about pre-season sales and allowing them to book in less than three clicks from email.
We must have a very easy, multi-language and mobile-first booking platform that integrates with a ski-specific marketing automation tool.
3. Organizational Alignment
From here, split out the goals and project requirements to ensure organizational alignment. The GOSPA model is a useful framework.
Goals
Drive higher revenue
Increase visitation
Objectives
Increase ticket yield by 6% over last year
Attract 20,000 additional skier visits annually
Strategies
Streamline advance purchase process
Enable cashless purchasing
Plans
Research and implement integrated technology and deploy modern booking platform
Activities
Replace legacy solution with new technology for fall 2024
4. Project Success Measures
Once you've defined the desired outcome and aligned on project requirements, it's time to establish the success criteria.
Good/Fast/Cheap
You can only have two of the three at any given time, so which will you choose? Do you need a solution that's a few years out? Then you can have an inexpensive and quality solution, because time is on your side. Need a top-notch POS solution implemented within a month? It's going to cost you because you want quality delivered at speed. With this context in mind, go back to the previous three steps and realign if needed. And don't forget Benjamin Franklin's sage words: "The bitterness of poor quality remains long after the sweetness of low price is forgotten."
Scope Business Outcome
Here you restate the problem or opportunity to solve for, and most importantly, calculate an ROI for it. Look to industry benchmarks as a guide when you don't have the data. For tech line-items that aren't revenue generating and therefore don't have a traditional ROI, consider other value measures like time and labor savings or risk management benefits.
Result Crawl/Walk/Run
Finally, building a strong foundation is paramount and will set you up for future success. Make sure you define each stage or in tech parlance, the minimum viable product (MVP) you need to get the project on its feet.
In our real-world scenario, ensure that your technology platform will provide functional capabilities that align with strategic business objectives: a dynamic pricing model to drive higher ticket yield. Consider the end result before beginning to configure products and pricing following historical patterns. Your strategy may include some form of guest engagement, which allows you to cross- and upsell to drive higher yields following initial purchase. In this case, you want to ensure that you capture guest demographic and contact details, allowing you to personalize subsequent offers to generate higher conversion rates.
5. Competitive Assessment
You now have a robust plan specifying how you're going to address your problem or opportunity, what outcomes you expect and when you need it delivered.

The next step is to look at what ski areas similar in scope are doing. Small regional resorts shouldn't look to Big Sky or Whistler, as an example, the same way that a Park City or Niseko shouldn't consider what Rainbow Ski Area, New Zealand, uses.
Find the technology providers that similar sized competitors use. They've already done much of the hard work to find a right sized and scalable technology provider; use their effort for your gain. You can also look at your competitors and peers to validate or broaden your thinking.
6. Identify/Evaluate/Select
At this point, all the difficult foundational work has been done. So when you're presented with options, you'll be able to quickly and decisively make a call. This short-listing process consists of three stages: identify, evaluate and select.
Identify potential software vendors. The easiest way to find them is through:
Competitive assessment (as previously mentioned)
Industry publications
Online search
Referrals
Tradeshows and events
Vendor content
RFI or RFP
Evaluate a short list of vendors that seem to meet your requirements on the surface. Use a scorecard to impartially evaluate each one on:
Functional requirements
Training, service and support
Implementation methodology
Vendor stability
Pricing considerations
Purchase price vs. total cost of ownership
Upfront and ongoing/hidden costs
Cost vs. value
Weighting and prioritization
Select a vendor.
Put together a cross-functional selection committee to narrow down the short list to your top three options. Use the scorecard, pricing considerations and reference checks where possible to make the list. Develop a template, which can remove bias from a decision process, and be sure to identify requirements (must-have, should-have and optional), service and support, and metrics related to vendor stability.
Do not ignore the importance of conducting reference checks and seeking opportunities to understand how a potential company responded when things didn't go as expected. Your goal is to identify and select partners who are genuinely committed to your long-term success.
Project governance refers to the people and process through which project decisions are made. Oftentimes, a formal document, such as a project charter, is used to establish the framework for a given initiative.
Such a document establishes clarity across all stakeholders and ensures teams understand objectives, responsibilities and decision-making criteria.
The Project Management Institute (PMI) denotes three pillars of governance: Structure, people and information. Further, PMI recommends a tiered model, which includes:
Portfolio Board: individuals who approve the release of funds and align to strategic objectives
Project Board: gives approval for key decisions and/or documents
Project Manager: responsible for day-to-day decisions that do not impact the business case
8. Plan/Execute/Monitor
A new project should also include a deliberate approach to ensure your project remains on track and delivers the expected outcome.
The planning phase is done at the formal onset of the project, utilizing inputs from the project charter and resulting in a detailed project plan. This project plan may include various elements: project timeline, scope, deliverables, responsibility matrix and various supporting plans, such as risk mitigation and communication.
With proper planning, project execution should be a controlled process whereby all parties understand roles and objectives. Alignment has been established across the stakeholder community, which enables project team members to take action and make decisions throughout the execution phase.
Project monitoring is a deliberate process that provides early detection of any possible issues before they derail the project. Decide what to measure and how to capture the data. You will also need to identify an individual responsible for monitoring, the tools used for monitoring and the frequency of monitoring. Both qualitative metrics (cost/budget/time) as well as quantitative metrics (user surveys or feedback forms) may be utilized.
9. Vendor as Partner
Finally, consider the distinction between the client/vendor relationship versus a business partnership with your vendor.
Traditional client/vendor relationships are typically transactional in nature, with engagement only as required. Conversely, partnerships are a value-add relationship between the parties, established with a mutual understanding of objectives and strategies that can often result in a positive outcome to both parties.
Seek opportunities to establish true partnerships with your vendors and engage strategically. Your trusted vendors should understand your top level business objectives and provide value throughout the course of a relationship.
It can be easy to get sucked into a new tech whirlwind and submit to the temptation to act with urgency. But with a bit of discipline and diligence, ski areas that approach procurement in the slow zone will not only be able to temper the Hype Cycle, but also go to market with alignment, confidence and exactly what they need to achieve specific targets.